At The Drain Man we say "every drain is different". That's because we never know what we are going to find when we arrive on site.
Most people naturally assume their drains are "normal" and have been properly installed. But often we see a completely different picture.
Like one we saw recently when called out to a blocked stormwater drain. When we put our camera down the drain it didn't take long to reveal the cause of the problem.
The plumber who had installed the downpipe for this stormwater drain had used a very "creative" solution. Instead of using a standard connection  join a downpipe to the main stormwater drain, this plumber had simply punched a hole in the top of the drain, pushed the pipe in and sealed it up with putty. (You can see the problem below!)
The problem was his connection was blocking nearly 90% of the main drain. No wonder it got blocked easily.
The irony was, it would have taken him about the same time to do the job properly.
Naturally we cleared the blocked and installed a standard connection so the customer would never have the problem again.
At The Drain Man we pride ourselves on the quality of our work and ensure it complies with industry standards.
If you think your property might be plagued by "dodgy" drain connections, please give us a call on 1800 843 372. We'll put things right.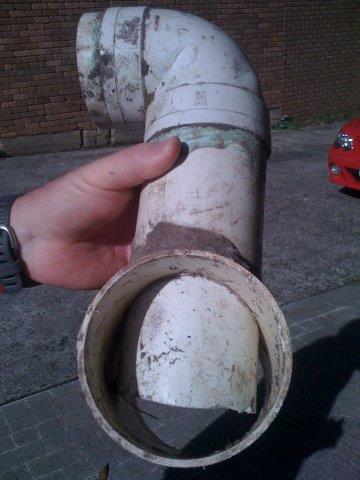 https://cdn.frankly.com.au/tdm/uploads/2013/08/Poor-stormwater-drain-connection.jpg
480
360
Drainman
https://cdn.frankly.com.au/tdm/uploads/2018/03/the-drain-man-logo-new-2015.png
Drainman
2013-08-13 21:43:34
2018-04-23 05:34:59
Poor plumbing work blocks stormwater drain